I recently received a Thule EnRoute Escort 2 Daypack as a gift. It was a perfect gift for me since I've decided to start hiking again and have needed a better daypack. What's more is I don't leave home without my laptop these days and have been long overdue for a daypack with a laptop compartment 15 or 17 inch laptop.
The description on Thule.com is a bit confusing as it's unclear from the copy that the compartment will house a 17″ Windows laptop. It turns out that my 17″ Toshiba Satellite fits just fine, though it does stick out at the top a bit. But the point is that a 17″ laptop will fit in here. Aside from the 3/5-inch protrusion, the remainder of my laptop remains protected, especially with the layered compartments in the back pockets.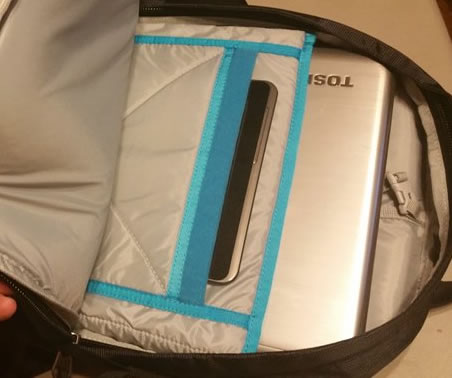 Organizational features
This bag has several interior pockets that allow you to carry several small items (tablets, notepads, pens, wifi-hotspots, etc.) and flexible side pockets that can hold water bottles. A large front pocket made of flexible plastic is also ideal for housing sunglasses, a smartphone, or a small tablet.
By default, the pack looks small and compressed (you would never guess 
it was 27 liters) but is quite flexible and expansive. If you take your laptop and accessories, the pack will remain small and compressed. Nevertheless, you can use this bag with more items, and it will expand accordingly. Even the pockets near the front are deep (in contrast to some bags where the front pockets become progressively shallow and allow for fewer carry items).
Outdoor use?
At 27 liters, this is on the large end of the "daypack" scale, and the multi-compartment construction allows you to store essential gear desperately from electronics (should you decide to take them outdoors). The laptop compartment can also host a hydration pack. The customizable straps also include a waist strap for added hip support. There are outer straps that could serve as trekking pole attachments (which would also work for cross-country trekking), but I haven't tried this yet.
Conclusion
I can't find any room for complaint about this bag, especially when it comes to standard use as an everyday bag to transport my usual work items. As a daypack for serious trekking, there are better options from companies like The North Face and Osprey, but the EnRoute Escort isn't intended to serve as a heavy-duty outdoor daypack and is better situated to internally house (and protect) several fragile/valuable products.